Science subject for Class 10 focuses on testing basic concepts in all the three areas, namely Chemistry, Physics and Biology. Science subjects include huge syllabus to deal with, complex formulas, which need to be comprehended well in order to score well in the subject. Here, we have compiled five important things for students to keep in mind while preparing for the Class 10 Science exam. Take a look at the vital tips and strategies for the subject:
Be Attentive and Focused – You should be serious and sincere with your studies. Start with knowing the exam pattern and the syllabus of the Science. Further, it is important to know the scoring topics of the exam so that you can fetch the maximum marks in the Class 10 Science exam.
Learn Formulae & Equation- Maintain a book comprising of all the important formulas, reaction equation, diagrams which are important from the exam point of view. This notebook will help you in completing the syllabus quickly and will also help you in your quick revision time.
Have Good Quality of Books- It is best suggested to start your exam preparation with NCERT Science Class 10 books to make your base strong. You can solve the chapter-wise questions in an easy manner with the help of NCERT solutions for Class 10 Science. After that move ahead with good references, All in One Science books etc for solving a sample amount of questions.
Practice Previous Year Question Papers- Questions are often repeated in the exam, thus you should invest your time in solving previous year question papers. After attempting papers, evaluate yourself and revise your mistakes again and again. Solving questions help you in tracking your overall performance, gaining self-confidence and knowing the type of questions, which are asked in the exam.
Preparation Section-Wise Tips- Check the subject-wise strategies for solving the questions in the exam quickly.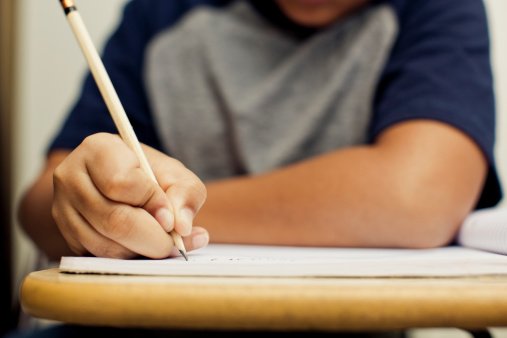 Science Physics Section
From Physics, conceptual and formula-based questions are asked in the examination, thus, you need to memorize all the important formulas and theorems covered in the Science syllabus thoroughly. Also, you must focus on Newton's laws of motion and its applications as this is scoring topic in the subject.
You should practice numerical on the series and parallel combination of resistances and numerical questions on lens and mirror formulas.
Devote your time in practicing diagrams like lines of the magnetic field around a solenoid and a bar magnet, electric circuit diagram, AC and DC generator, glass prism, image formation by lenses and mirrors, the human eye, image formation for both defective and correct vision.
Practice previous year question papers and model test papers to get an idea about the important topics from the exam point of view.
Science Chemistry Section
Chemistry is considered as one of the easiest among the other two subjects. It is a high-scoring subject and requires lesser time for the preparation. For this, you need to learn the tips related to balancing chemical equations. Also, memorize the applications of acids, bases, and salts.
Every year questions are asked form salts and its compounds, therefore, memorize the common names, chemical formula, and uses. Also, focus on carbon compounds, and it's nomenclature comprising functional groups.
Understand the Modern periodic table with electronic configuration and learn all the elements placed in the first and last two groups of the Periodic Table.
Speed and accuracy can be acquired through thorough practice and in-depth preparation of the Chemistry.
Make notes of all reactions involving the conversion compounds as these notes will assist in your last- minute preparation.
Science Biology Section
In biology, you must practice diagrams like the representation of reflex action, the human brain, respiratory system, different parts of a flower, female and other organs, etc.
Understand and learn the functions of the body organs in humans and the process in plants.
Thoroughly prepare the topic of Mendel's experiments and comprehend the traits Inheritance.
Understand the complex terminologies that could be memorized by doing regular revisions. Write and understand those terms to get acquainted with these terminologies.
Biology comprises of several complex diagrams, thus, give proper attention while solving questions.
It is recommended for you to understand each line taught in NCERT Class 10 textbooks as most of the questions are asked from NCERT. Before appearing for the board examination, you should practice at least previous 5 to 6 years' question papers and CBSE sample papers. It is essential for you to understand the exam pattern and syllabus.
By solving questions, enhance your speed, accuracy, and time management skills. Moreover, following the above-mentioned techniques will surely ensure your excellent performance in the CBSE Class 10 Science Board Examination.